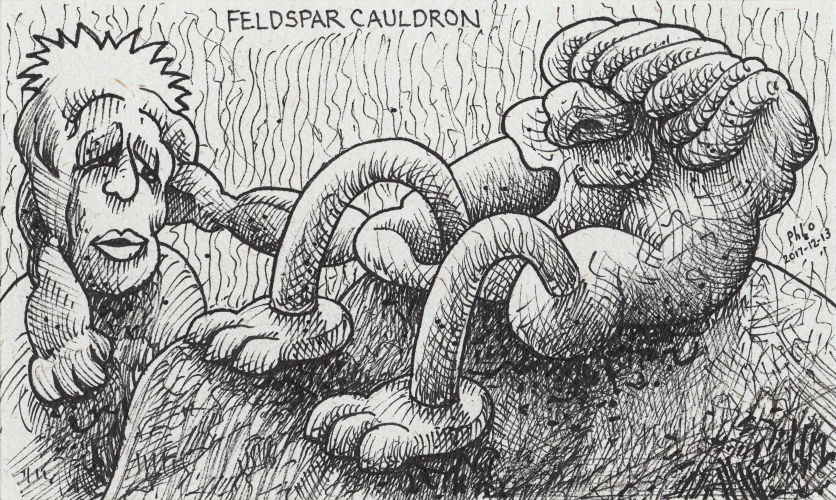 Feldspar Cauldron
Gustav purchased a pet cat from Boltz, but little did he know his business ID number was also entered into a monthly drawing to win a brand new Zeldquist Mackapelipster alarm clock. This is that very drawing, and if you look closely enough you might become alarmed.
Gustav is the ritzy guy with shoulders and arms for ears. His cat Zam-cholls is the large, lazy blob with padlock shackle legs. One of the legs is secretly hollowed out and serves as a straw to sip beverages. Talk about a footy disguise! Classic literature often depicts characters with such tactile imbalance as villains, but not in this canine dance caper with irritating chimes on the hour! Fighting fires with water is more of a heroic gesture, especially when one lives in Equatorial Guinea.
Boltz is the only nonprofit pet store established by the village council that I am aware of. The council wasn't impressed by the deep ravine carved away over decades by cascading rivulets. From this angle the waterfall cannot be seen. Luckily for Zam-cholls, Gustav's arms are adequately long to build friendly bridges across the watery chasm below.
I don't know what else to write about since I'm tired this evening, like Zam-cholls. If only my hair was also fingery and rolled over my eyes. Then I could nap in style.
Weekends never come early enough in this town.