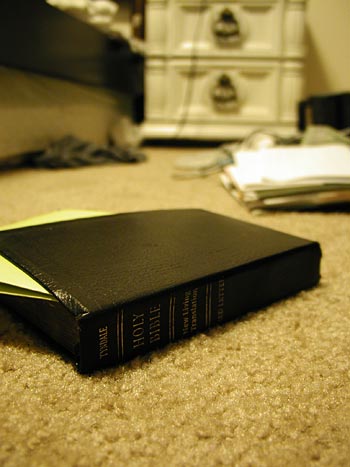 I suppose that title is pretty bad grammar, but most people don't know their thees and thous, so methinx I'm in the clear. In the end, I think "Doth Calleth" is better than "Dust Collect".
Truth be told, my in-the-flesh Bible might be collecting a bit of dust for lack of use. I haven't been reading it much lately. Last night I arrived home late in the evening after hanging out with Dave. I saw my Bible sitting on the floor next to my bed. It was quite literally calling to me. Okay, so not audibly, but pretty close. I was strongly compelled to pick it up and start reading it. However, I resisted the call and got distracted with unpacking some things in the new apartment. Well, at least I took a picture of it... does that count? Maybe I'll absorb some truth by osmosis or "photosynthesis"?!
I know, so far this account sounds pretty bad. Sounds like I haven't read the Bible in centurons and am resisting the Spirit of God calling me to read His word. Well, that's not quite the whole story. I admit feeling bad for resisting the urge to drop everything last night and heed the call. I should have picked up the Good Book. I probably missed out on something. Nevertheless, the urge remained this morning, and I immediately put my headphones on at work.
So, to clarify, I've been more in the Word than I have been in years. One could say I spend several hours every day interacting with the Bible. It's perfectly accurate to say that the Bible is transforming my life in a living and active way - possibly more than ever in my life before (at least in recent history). The Spirit speaking through the Word is what brought me to repentance and is continuing to transform my life in miraculous ways.
It may be mere "coincidence", but this new and exciting spiritual experience came immediately as I started listening to the Bible audibly instead of reading it with my eyes. I tend not to have very good reading comprehension when I read the Bible. To be honest, unless much effort is exerted, I often get bored and sleepy when reading. As I started listening to the Word, nearly every sentence became solid gold to my spirit - bringing me to awe, tears, and a greatly moved spirit on numerous occasions in recent weeks. I've been thirsting more and more for the pure, sustaining, transforming water every day and honestly feel that even a few hours simply ain't enough to satisfy! Last night was a good example of how God has been working in my life... I truly believe the Spirit of God is speaking directly into my life, guiding me in specific actions as I'm setting my heart on obeying and listening to Him. I don't always listen or obey perfectly, but it is of great comfort to know I'm not alone and that the God of the universe - my Father - loves me, has plans for me and hasn't given up on me (and never will).
There is much I wish to write based on what I've heard in the Word. Hopefully when I get an internet connection again soon, I'll find time to write about some of these things.