I took Sadie back to see her old friends today. She was rescued by a non-profit adoption organization called All About Dogs (aka All Breed Rescue). Each Saturday at Petco Tanasbourne they set up their fenced in area and show off their latest finds. Many of the dogs come from the pound and are rescued from death. All of them are special and worthy of a second chance. In most cases, dogs are not given up because of poor behavior but because of lack of commitment by owners. The statistics of how many dogs are killed each year due to overpopulation is staggering.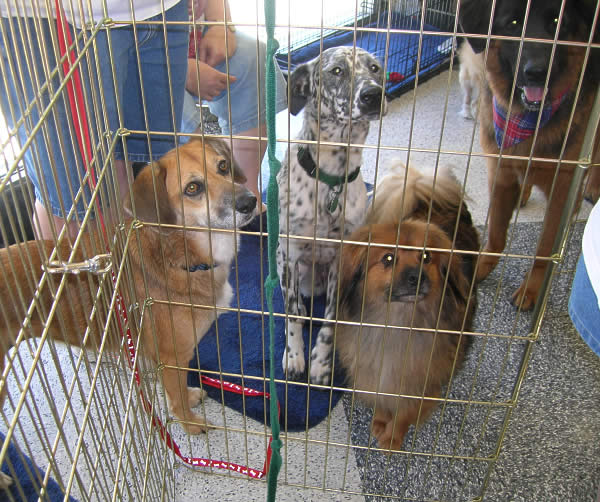 In my opinion, everyone who is looking for a pet should at least take a look at a few rescue agencies before going to a pet shop. Often dogs at agencies are better behaved and already trained. All About Dogs in particular focuses on preparing dogs for indoor living, so most of their dogs are house trained. Each dog is cared for in a foster home until a permanent home is found. In addition, the dogs are up-to-date with shots, and most have already been spayed or neutered or are scheduled to be. The adoption fees are very reasonable (a small fraction of buying a dog from a shop), and all the money goes back into rescuing and caring for more dogs. To search for adoptable pets, go to petfinder.org. Petfinder has pictures and information about dogs (and other pets) for all the major local rescue organizations (local, meaning just about everywhere). Information provided on their flyer handout:
All About Dogs
All About Dogs is a full service adoption rehabilitation facility and we will disclose our in house observations and whatever other information we have received about the dog with the adopter.
Let us help you be informed about the dog you are seeking to adopt. Not all dogs are suited to all people. We temperament test all dogs that come through our rescue service. It is required (either by us or the adopter depending on the conditions of the contract) that the dog will be spayed or neutered & shots updated including rabies. We start on housebreaking & leash training while they are at our facility.
We Can Help in the Following Areas:
Adoption Services
Basic Good Manners
Obedience Training
Skin Problems & Behavior Issues Addressed
Owner Releases
Grooming
Dog Counseling
Whether you need to find a new family pet to addto your home or a new home for you pet, we can help!
We are a private 501 C 3 Non-Profit Organization - funded solely by our adoption fees & donations. All donations go to the medical care & rehabilitation of all the dogs in our rescue.