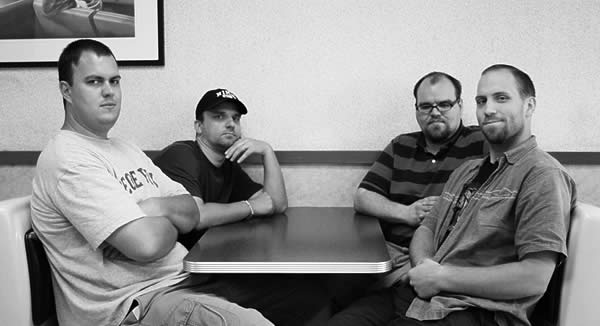 Click here to see more photos from the trip.
Early this summer I called the Jim Guys (Jim, Marcus & Dave) to plan a trip to the cabin. I may be wrong, but I think this was the first multi-day event we've had together since Jim's bachelor party. We've gathered together a great number of times in various combinations, but it's been ages since we have all been together for more than an extended evening. It took some advanced planning because we are all adults (well, in some ways, and in others not) and have more complicated lives and schedules. Fortunately everything worked out for a 3-day weekend. To sum up our time at the cabin, I'll simply use what I wrote the cabin journal.
Thursday July 26 - Sunday July 29, 2007
A Jim Guy reunion of sorts. Dave, Jim, Marcus and I drove via 26 Thursday evening, stopping in Sandy for Yakisoba dinner. Our itinerary for the evening involved watching the Simpson Movie at Old Mill Theater, an 11:59 (midnight) showing. The movie was quite hilarious, better than I thought it would be.
Friday we went into Bend. Ate lunch at Mazatlan Mexican Restaurant. Stopped at Bend Pawn to get some $3 movies (I found a Jackie Chan). We bought groceries at Food4Less for a traditional Jim Guy taco feast. Most of the afternoon we spent back at the cabin, either playing video games or juggling the soccer ball. Taco dinner, of course.
Saturday we got a late start and headed to the Lava River Cave. It had been a couple/few years since I went there. Jim and I were the adventurous ones, climbing up into the stacked tubes and shelves while sacrifice the bones and the skin. The rocky surface was quite sharp and horribly wet. This was the first time I've ever braved that climb. The pictures should make it a worthwhile risk. Then at the end of the cave, Jim and I continued down to where you have to crawl under the low ceiling. Rather, we did ape man walk - great exercise! Originally we had planned to go on a short hike in the afternoon, but the sun was hot, and we were too tired. We ate lunch at Chans in Bend - massive food (mine was essentially 2-1/2 meals - dinner that night and Sunday lunch). Saturday evening was spent pretty much the same as Friday.
Throughout the trip Dave and I were trying to play video files that he, Jim and I made some years ago. In so doing we discovered that the public library leaves their wireless internet on. We were never able to download & install the proper video codec and couldn't view the files.