After a very yummy meal, trying out a $4.95 all you can eat Chinese Buffet, I decided to do some juggling. Last night was a great time at community group with friends from Ethnos. I didn't leave from their Hillsboro home until 12:45 am or so. To my enjoyment, I got to more thoroughly meet Jeremy, Karen and family. As people were still arriving, Doug and I went outside in the yard for some Shoey So (juggling a soccer ball in a group of 2 or more people). This and one other time (Jugglisk VI) have been my first juggling sessions of the season. I consider today my first official Jugglisk session, as I put some serious intention into the number of hits I achieved while getting a little exercise.
I started out with typical small, warm-up numbers: 41 and 75 hits. After these bouts, I quickly progressed to the hundreds: 458, 806 and 588. Today was my day. I think I got my 3rd best all-time score: 2121.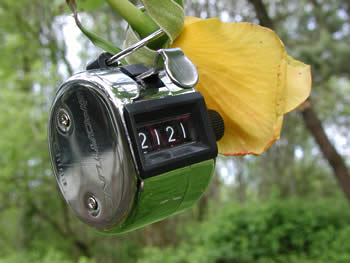 In celebration of my decent score, my mechanical counter did a victory lap around the backyard. I tried to keep up in order to visually document his exploits. Interestingly enough, as I was searching for material about "2121" in the web, I came across a Disney TV series called Phil in the Future. I've never watched it, but I see that it is a story about a family from the year 2121 that somehow gets stuck in 2004... and it has my name in it. Oh yeah, I'm all about making obscure, meaningless connections!
It's all about the 21's today. After getting my 2121 hits, I decided to do a little SocSum Advance. This involves getting 1 hit with one foot, passing to the other foot and getting 2 hits, passing again to get 3 hits, and so on. During each foot's sequence, the foot kicking the ball cannot touch the ground. If the ground is touched at all or a miscount occurs, you have to start over from 1. So of course I got 21 hits today, my new SocSum Advance record. That amounts to 231 hits all together. Sounds relatively small, but it is far more strenuous than getting 2000 hits freestyle because most of the time my leg is suspended in the air. Freestyle juggling is about the same exertion as a brisk walk, while SocSum is like a full-out sprint! I don't practice SocSum very often. It is one of the best methods I've found for improving leg strength, balance and control, the 3 most important keys to juggling. Both SocSum and SocSum Advance improve equal skill with both legs, since it's against the rules to continue if one leg's count doesn't exceed that of the previous.