Today was my first day practicing with my new guitar. As I mentioned earlier, I started out by watching the instructional DVD that came along with my Yamaha F325. I just tried to find the name of the guy on the video so I could say "_______ _________ was my first guitar instructor". But being that his name is not mentioned or credited anywhere, I will just say the "Yamaha Guy" was my first guitar instructor.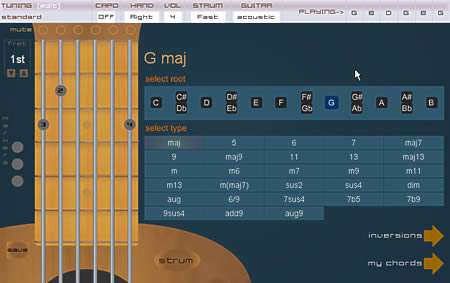 This afternoon I started searching for guitar chord diagrams on the internet. In my search I came across an incredible site: chordbook.com. The site offers a Flash-based Virtual Guitar and Chordbook. Through their friendly interface virtually any imaginable chord can be loaded into the graphic guitar model. It is the clearest diagram I have seen. The finger numbers are displayed on the position dots instead of below the chart. This is preferable and faster to read.
Every chord can be "strummed" virtually so its sound can be heard and compared to your practice. It is also possible to get a group of tabs for inversions for each chord. As if that wasn't enough, you can construct your own chords by dragging dots along the virtual guitar finger board. 36 standard or custom chords can be stored in a buffer and played in sequence.
I learned my first four guitar chords today: C major, D major, G major, and A major. The fingering for each of these is pretty easy to achieve. Some of the other major chords seem ridiculous. For example, I'll have to see someone doing a B major chord to believe it is humanly possible!