My parents generously gave me some money for my birthday last year, and my mother-in-law also gave me some money before returning to Brazil earlier this month. For the past few weeks I have been at a loss in deciding what to buy (mainly for my birthday). Things that I have been thinking to purchase are too expensive - like a digital SLR camera or a laptop.
A few days ago the idea of buying an acoustic guitar came to me. I have always been interested in learning to play a musical instrument, so now is my chance. I emailed my guitar-playing friends, Karl and Dave, to get some initial advice. Then Dave and I went to Guitar Center, and I bought my first acoustic guitar, a Yamaha F325.
I chose the Yamaha primarily because it was within my beginner (cheap) price range. Plus, it comes in the form of a pack called the Gigmaker. The set includes the guitar, tuner, strap, soft "gig bag", instructional DVD, and replacement strings. Before arriving at Guitar Center I had narrowed my selection to this Yamaha set and the Fender DG-8S, similarly "equipped" set. I asked the experienced salesperson which he would choose and why. He pointed out that Fender is not particularly known for making acoustic guitars, but rather electric. He also mentioned that the action seemed easier/better on the Yamaha. This means that the strings are closer to the fingerboard and are thus easier to press down to form chords and notes. This is an important attribute for a beginner guitarist (me), and Dave also mentioned that point. I could tell the salesperson was being honest because the model he recommended was cheaper. So I went with the Yamaha.
Last night Dave and I attempted to tune the guitar with the supplied Qwik Tune tuner. I guess they call it "Qwik" because it only takes 2 to 3 hours to tune your guitar! Well, that's because I didn't know what I was doing. I finally figured it out, and it should be simple from now on. The key is to tighten the strings so they are relatively close to where they should be before trying to use the tuner.
Today I watched the majority of the instructional DVD and am trying my hand at a few simple chords. Boy does it hurt my tender fingers! I had ample warning, furthermore, and realize it will be a painful process to get my fingers broken in (that doesn't sound good!).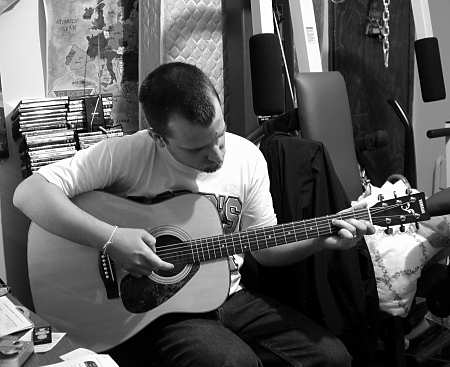 Oh, and there's nothing wrong with asking for a miracle, so me playing guitar may also end up coming to pass. I don't expect great things from myself, however. I'll just do my best. In truth, the primary reason I want to learn, at least to play a few important chords, is so I can use it worship God in intimate settings - either by myself or a small group. Some of the best times of my life were centered around singing familiar songs with a guitar being strum along. Maybe some day (year... decade...) I'll take part in creating more of those times for myself and others - Lord willing. Wish me Lork (I don't believe in luck)!