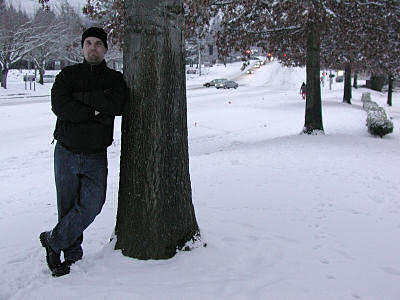 This morning I was pleasantly surprised to see a thick blanket of snow (oxymoron) covering. I don't recall ever having seen such a beautiful snow. As I drove to work I snapped photos here and there.
Commuting in the snow is always the number one topic of discussion in the office when winter shows her frosty fair complexion. My story balances out the extreme adventures because I have only to drive or walk about a half mile to get to work. Had my wife and I not moved to Beaverton some years ago, I'd be commuting every day like everyone else. This is a great blessing - though it often puts us far from other valued people and places.
After eating company supplied pizza, the powers that be decided to let everyone leave early today in fear of traffic and weather treachery. I took advantage of the early release and went on a photo-taking walk extravaganza. It was a well-spent opportunity that availed some of the best images my camera has ever captured! The Fanno Creek Greenway Trail is situated directly behind our duplex. My looping walk revealed some stunning views. I did my best to frame the beauty.
My wife asked if I wanted to go on a second walk with her (she declined to accompany me on the first), so the two of us departed on a longer trek. We walked a mile or so (more, I think) to Target, Taco Bell and back. Again, more photo ops. Rather than trying to sort out the best images to show, I'm just going to put them all in a here-you-go EsoShow.